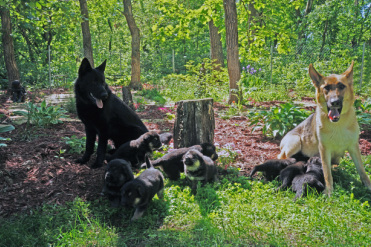 Welcome to Bartell Haus!
AKC Registered German Shepherds
You should have high expectations for your German Shepherd breeder and you should want to buy from a quality kennel. While looking for a breeder of German Shepherd puppies, Bartell Haus meets and exceeds all of your expectations!
Our Commitment:
Remarkable hygiene for every puppy
Quality/Balanced meals
Strongly socialized - with children and adults
​Individual attention - unconditional appreciation
---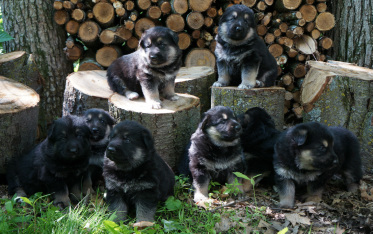 We are a modest family-owned kennel located in Central Minnesota "haus"ing only German Shepherds! It is our ambition to deliver strong, healthy, charming German Shepherd puppies in a hygienic setting to become a member of your family.
Reservations now being accepted for our summer/fall litters!
Visit our
puppies
page for pictures!
---
What our Happy Puppy Owners are saying:
Bartell Haus German Shepherds was wonderful to work with. They answered our questions quickly and know so much great and helpful info about GSD. We were impressed how social the puppies were and loved the exposure to children at a young age. We sure love our little guy and would highly recommend Bartell Haus German Shepherds to anyone looking!~ Kelsey
We knew we wanted a German Shepherd before we got Max. The experience we had with Bartell Haus German Shepherds exceeded our expectations. I loved being able to see Max's parents, and fell in love with Rocky's temperament as he greeted us when we arrived and wanted to play. It appears Max has inherited this positive demeanor, as well! Thank you, Bartell Haus German Shepherds for a fantastic new family member who we look forward to having many years with!~ Kimberly
Want to hear more testimonies and see more pictures? Check out our Facebook Page:
https://www.facebook.com/bartellhaus/